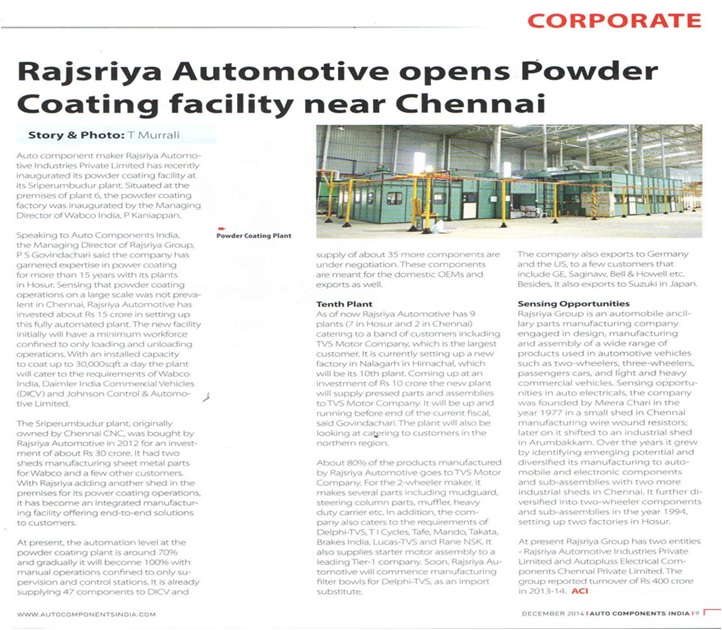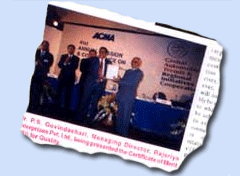 41st ACMA AGM
Mr. P. S. Govindachari, Managing Director, Rajsriya Enterprises Pvt. Ltd., being presented with the Certificate of Merit, for Quality.
The Chennai-based Rajsriya Group of Industries (RGI) is all set to manufacture operating rod and fork assembly for Brakes India to support the development of new braking systems. The company is also finalising a deal to manufacture valve seats, plungers and solenoid housing to Sundaram Clayton for air brake systems.
RGI consists of two companies - Rajsriya Enterprises with its plant in Chennai and Rajsriya Automotive Industries in Hosur. While the former takes care of most of the requirements of Lucas TVS in Chennai, the latter is almost a dedicated supplier to TVS Motor Co Ltd, third largest two wheeler manufacturer in India.
P.S. Govindachari, managing director, RGI told Auto Monitor that the company had commenced supply of oil filled front forks to TSL for high-end mopeds. It was also developing special connecting rods for the export requirements of Sundaram Clayton.
Robust supplier
According to Govindachari, clients perceived RGI as a robust, consolidated supplier. They have also shifted the procurement of components from a sub-contract to order basis. RGI used to formerly acquire materials from its clients for conversion and supply them back. For the past two years, clients have moved to the concept of 'bought out' which resulted in RGI taking the entire responsibility from procurement of raw materials to supply of finished products at the appointed time.

Single piece flow
Govindachari said that as part of its endeavour to enhance productivity, the company had opted for the 'single piece flow' concept. Instead of doing batch-production and passing the component from stage to another, one person would take care of the single piece and assemble a host of components and then send it to the other section. This concept had been introduced in one of the units in Chennai and Hosur last year as part of TPM while it had just begun in another Chennai facility.

Top quality rating
The company maintains JIT (Just-In-Time) supply to the three companies with most products falling in the 'self certified' category. Quality rating of the supplies has been 100 percent for the last few years and the company received the 'Supplier of the Year' award from Lucas TVS last year. RGI participates in value-engineering initiatives of its clients, a list that includes TAFE, Repco and TVS Electronics.

The company is the sole supplier of power-coated battery tray for the Hosur-based GNB Technologies which makes industrial batteries. Ninety percent of the trays are exported to Hongkong, far-east Asia and Europe.

RGI is also examining the options of supplying steering-related components to Delphi Saginaw Steering in Bangalore. Likewise, avenues are being explored to pitch a deal with Applicom (part of the Videocon group) for supplying powder-coated products.